New shop – what's new?
The new webshop looks completely different from the old one at first - but it offers a lot more options and much improved ergonomics. Learn here what is different and better for you:
Your customer account is already here
If you already have a customer account, you can continue to use it in the new web shop. The access data have remained the same. Unfortunately, not yet completed shopping carts and shopping lists could not move with. We are still working on migrating the shopping lists as well. In a few cases, the user accounts could not be transferred or had to be deleted for legal reasons. You can then re-register with the same e-mail address.
Usage with mobile devices
Many customers are increasingly using our webshop from mobile phones or tablets. The new shop automatically adapts to it. Whether large or small screen: the lists, topic pages, article details and the shopping process are displayed optimally.
Search better, find faster

We have improved the search considerably. You will now be provided with real time suggestions during the search, which will lead you to editions or composers directly. In addition, we have restructured the navigation. They are now led to groups of instruments – or you choose, as before, the list of composers. Very useful are our new filter options. You can now filter your search results by country, epoch, genre and many other criteria. This way, you limit the result more and more according to your needs. The filters appear as soon as you see a search result, a composer page or an instrumental site. You can use several filters at the same time and also activate several options for each property simultaneously. For example, you can search for romantic piano sonatas from France – or for organ music with manuals only.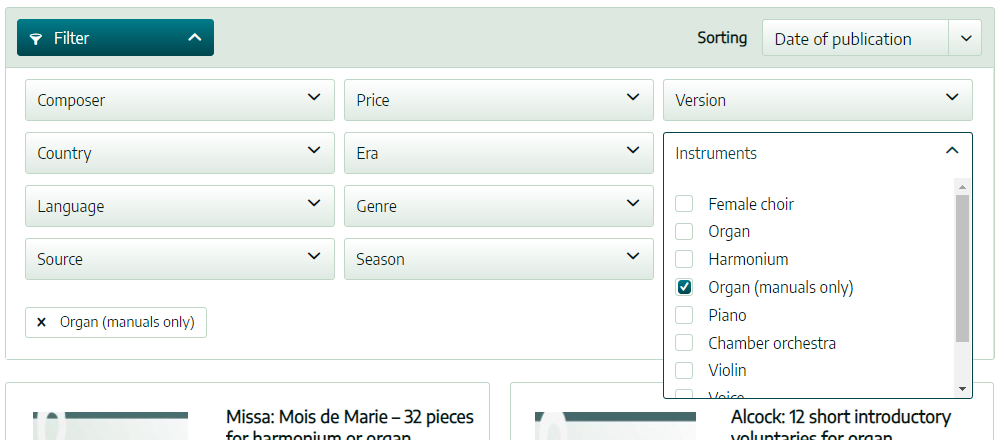 Download issues digitally


The B-Note Shop now also offers digital editions for download. We start with some selected editions and will gradually expand the offer. If you want to purchase an edition digitally that is not yet available for download, we usually can offer this issue quickly. Simply send us a short mail. Already available downloads are indicated by the blue symbol in the article lists.
More multimedia
With the new shop, you can find more multimedia elements in the articles. Youtube videos, digital specimen, audio files or PDF sample pages should help you find suitable music for your needs. Gradually, all items in the assortment will be equipped with this additional information.
More payment options
We have integrated numerous new payment options. You can now also pay by Giropay, IMMEDIATE and iDEAL. Of course, PayPal, credit card remain available.
More shipping options
We now provide more shipping options for you. In addition to the standard shipping methods (letter, book mail) you can add DHL parcel delivery for an extra charge. You will then receive a link to track the parcel and often a much faster delivery.
Help, a piece has disappeared!
Also new is that there are a number of issues are no longer offered. With the relaunch of the webshop, we have cleared out our catalog. We have delisted about 850 issues. Articles that are no longer listed in this new shop are permanently out of print. Remaining stock can still be available in stationary stores or wholesalers – please ask where appropriate.