Works and editions by Schulhoff, Erwin (1894-1942)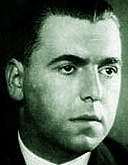 When Erwin Schulhoff died of tuberculosis in a castle converted into a prison by the Nazis in 1938, he was just 48 years old. He had a brilliant career behind him. Born in Prague, he had been considered one of the most radical personalities of his time. From Dada to jazz, quarter-tone music to impressionism: Schulhoff was inspired by many styles and wrote extremely successful music of the new age - modern, jazzy, colourful and witty. In short: exactly what was considered outlawed at the time.
After the Nazis came to power, his works were classified as "degenerate music". He now turned to communism and received Soviet citizenship in 1941. However, he did not manage to escape to the USSR. Schulhoff was arrested by the Nazis in June 1942 and died shortly afterwards.
For many years Schulhoff was forgotten, but he never completely disappeared from the repertoires. In recent years, his music has returned more and more. At B-Note he is one of the focus composers.
No results were found for the filter!